10 Gifts to Send a Loved One While in Quarantine
While the world is in isolation, it can be very hard to cope. Show a loved one you're thinking about them or help them celebrate their birthday by sending them one of these postal gifts! From food to flowers, there are so many things that can be sent out to brighten someone's day. Here are my top 10 favourite ideas!
Postal Flowers
There are several different postal flower companies such as
Bunches
and
Bloom and Wild
which offer some beautiful bouquets at a range of different prices. These flowers are posted in letterbox sized boxes so the door doesn't even need to be opened! I have personally experienced Bunches flowers and they were amazing. Not only did the come with a cute packet of seeds and a personalised message but they lasted for weeks! This is a lovely way to brighten someone's day.
(Image above, Laura Letterbox Flowers from Bunches)
Personalised Chocolates
It may be harder for the easter bunny to deliver the goodies this year so your friends the gift of personalised chocolate! My favourite company to order chocolate with names on is
Morse Toad
which offers affordable little gifts including an NHS special edition which you can send to one of the many hardworking frontline nurses. For around £13.75 you can get 5 party favour style named chocolates to send to your whole family each complete with a little box!
Pampering Gifts
It is important in this time to take care of yourselves and a brilliant way to do that is by having a pamper session. Send your loved ones the gift of relaxation with a gift from their favourite brand. Many are offering Easter themed gifts like this Cherry Blossom Beauty Egg from Loccitaine which would make a beautiful present especially for a lockdown birthday. I would also like to recommend
Not on the high street
where you can support local businesses in a time where they need your help. There are many letterbox pamper gifts to choose from and they even offer organic or vegan options.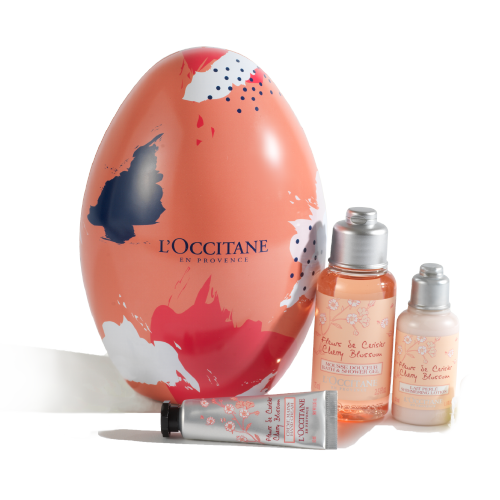 Cherry Blossom Easter Egg
Cake in a Card
Is a birthday coming up or you just know a cake lover? Cake cards are a perfect way to keep spirits high.
The cake nest
currently has a limited range but are still sending out their cake cubes with fondant writing on the top.
Sponge
is another great cake card company which I used to send a mothers day gift as they offer gluten-free, dairy-free and vegan options however due to circumstances are currently not taking orders until the end of April but is one to remember.
Alcoholic Gifts
Treat an older friend or family member with an alcoholic gift through the post. Unfortunately, I haven't found many small businesses who offer services like this but
M&S
offers a few affordable options including grow your own mojito kit for £30 to keep your loved one occupied! The other website I found was
Bottle in a Box
which not only offered mini tasting sets from £12.99 but most sets were accompanied by some snacks!
Tea, Coffee and more!
If your loved one isn't a fan of alcohol, you could send them a letterbox gift containing a selection of teas and biscuits or even a trio of hot chocolates from Friend in a Box! This website offers gifts from just £10 and has a range of other boxes to choose from too. I think sending them a warming selection of teas is a brilliant idea and a lot of the boxes even come with some biscuits. There is also a gluten free option!
Anxiety Relief
We are currently in a stressful time and some people may cope better than others. For those feeling anxious, Friend in a Box also offers two letterbox gifts called "Calm" and "Lean on Me" which respectively include a little book and a few other essentials to help your loved one through this difficult time. I love these box ideas so much as not only do they look beautiful but the products inside them are good quality and reasonably priced too.
Lean on me box complete with biscuits, chocolate, a sleep better rollerball and more!
Pizza
If you're missing your friends and fancy a pizza party, you can order them their favourite pizza and hop on FaceTime, Skype, Zoom or any other video chatting site to have a long-distance dinner party. This idea works for any sort of takeaway or dinner that you may cook at home. It isn't the same as having dinner with your loved ones but it is the next best thing.
Personalised Photo Gift
There are so many businesses who offer personalised photo gifts which make a great present for anyone, isolation or not. Whether it be buying a photo card from Moonpig and writing a heartfelt message inside or buying a photo book from Snapfish or Photobox, there are so many different personalised gifts you can get to brighten someone's day. On Groupon, there are lots of deals for photo-related gifts which is great as I know a lot of people may be limited with work at the moment.
Sending a Bear Hug
My last idea for keeping up spirits is to send your family a
BearHug
. These are adorable little boxes which each have their own themes. There is a range of different boxes including ones for new parents, ones containing stationary and even one with a cupcake in! I love the idea of this as not only do you support a small business but you also support people with chronic illnesses.
What is your favourite gift idea? I'd love to hear what you guys have been doing to keep spirits high and keep in contact with your family and friends. Don't forget to support local businesses, stay in and stay safe!